Du 2 au 29 septembre 2020
CUE Art Foundation
137 West 25th Street
New York
NY 10001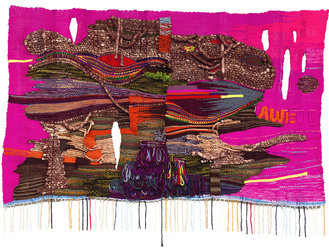 Exposition personnelle de Terri Friedman, présentée par Kathy Butterly.
Friedman creates large, painterly weavings that ooze, sag, pinch, and dangle in vibrant shades of magenta, vermilion, fluorescent yellow, and cobalt blue. Her compositions, full of seemingly dissonant yet pleasurable colors and patterns, draw upon viewers' feelings of discordance to provoke a visceral response.
Originally trained as a painter and sculptor, Friedman began weaving in 2014 and found that the repetitive, tactile process was meditative and allowed her to merge formal aspects of both practices. Working on a loom, the artist assembles undulating abstract shapes accentuated with cotton piping, colored glass, and applied paint, evoking bodily textures and psychedelic patterns. In some cases, she builds up emotive clusters of looped fiber and embeds warped text in phrases such as "Enough" and "If Only." Friedman embodies a sense of precariousness in her textiles, with threads that cling to one another or appear to be on the verge of unraveling. This tension is an important aspect of her practice and reveals itself in the contrast between natural and synthetic fibers, contradictory colors, and lopsided forms.