Du 15 janvier au 19 février 2021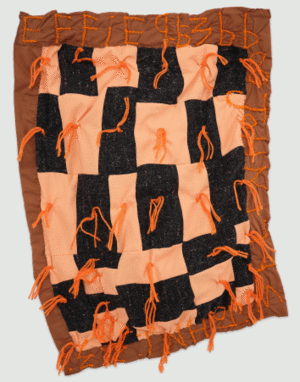 Exposition personnelle de l'artiste américaine, Rosie Lee Tompkins (1936–2006), considérée comme l'une des grandes « quiltmakers ».
This significant exhibition coincides with a major retrospective of her work at the Berkeley Art Museum and Pacific Film Archive, and includes a newly commissioned essay by Lawrence Rinder, the longtime champion of Tompkins and former Director of the BAMPFA.
Each artwork tells a highly personal story, often including biblical references through embroidered words and numerical citations of Christian scripture. In one work, the name of Tompkins' son, Alvin Levern Howard, is embroidered in large letters across bits and pieces of the American flag and a regulation US Army shirt, alluding to her son's service in the National Guard. In another, Tompkins juxtaposes her own and her mother's birthdates: "36" and "17," on a quilt comprising exactly 36 pieces of fabric.
Few of Tompkins' quilts conform to the traditional scale of a bed covering, a byproduct of the conceptual logic inherent in each piece. Her quilts are characterized by the variation in scale of the triangles and squares used in her patterns, creating "asymmetrical forms that pull, crumble, and bend," says Rinder.
Rosie Lee Tompkins is the pseudonym of quilter Effie Mae Howard, who carefully guarded her privacy after her rise to national prominence in the late 1990s. Born on September 6, 1936 to a sharecropping family in southeastern Arkansas, she learned quilting from her mother as a child but did not begin to practice the craft seriously until the 1980s, when she was living in the Bay Area city of Richmond. Tompkins was a devout member of the Seventh Day Adventist Church, and credited God with her uncanny sense of color. Many of her quilts were made with family members or friends in mind, and can be seen as prayers on their behalf, including her sons.